trio_for_three_clarinets_op._27
Work : Trio for Three Clarinets, Op. 27
---
Composer : Franz Thaddäus Blatt
---
Difficulty Ranking : III
---
Publisher: Boosey & Hawkes, Inc.
---
Year Published : 1965
---
Instrumentation : 3 Bb Clarinets
---
Potential Pedagogical Applications : Classical form, articulation matching, intonation (chordal, octaves, and unisons), cuing and ensemble communication, classical style ornamentations, cut-time
---
Sample Recording :
---
Where to Purchase Sheet Music :
---
Annotation: This short three movement trio is similar to the Mozart Divertimenti and Bouffil Trios. The work features a mostly compact range in the three parts, with the exception of a few passages in which the first clarinet extends the range to F 6 . Harmonically and formally, this trio is extremely straightforward. The first clarinet part is exposed most frequently, and unlike the Bouffil Trios, the work overall is heavily dependent on the skill of the first player.
---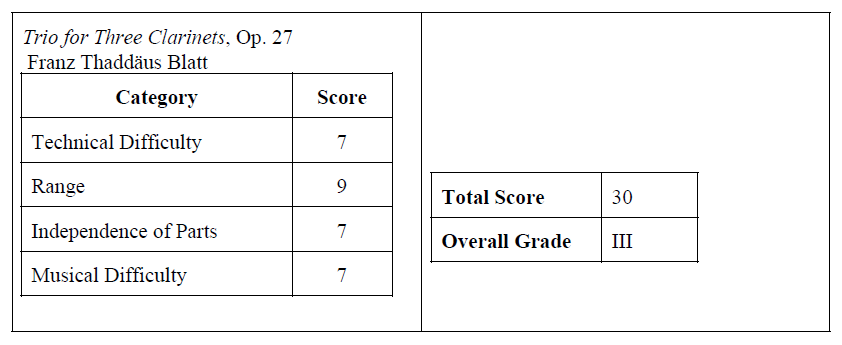 trio_for_three_clarinets_op._27.txt · Last modified: 2017/11/27 15:23 (external edit)